ภาพนี้วาดจากภาพถ่ายเหตุการณ์จริงที่ปอฝ้ายเข้าแข่งขันรักบี้ฟุตบอลระดับประเทศเป็นครั้งที่ 2 และผลคือทีมโรงเรียนเพลินพัฒนาคว้ารางวัลชนะเลิศเป็นแชมป์ประเทศไทยในปี 2560 อีกครั้ง (ครั้งแรกในปี 2558) ประเภท 7 คนรุ่นอายุไม่เกิน 13 ปี จึงเป็นภาพถ่ายที่ปอฝ้ายรักและภูมิใจที่สุดจนนำมาเป็นต้นแบบในการวาดภาพถึง 2 ครั้ง ครั้งแรกถูกวาดด้วยดินสอลงบนกระดาษ A4 ปกติ ตั้งใจทำเป็นปก portfolio ส่งครูแนะแนวไป ภายหลังครูทำสูญหาย ปอฝ้ายร้องไห้เสียใจแต่ในที่สุดปอฝ้ายได้นำกลับมาวาดใหม่อีกครั้ง คราวนี้เป็นรูปแบบดิจิตอลวาดใน iPad และต่อมาปอฝ้ายปรับดีไซน์ให้เป็นปก portfolio เพื่อเตรียมยื่นสมัครทุน UWC (United World College) ช่วงปลายปี 2021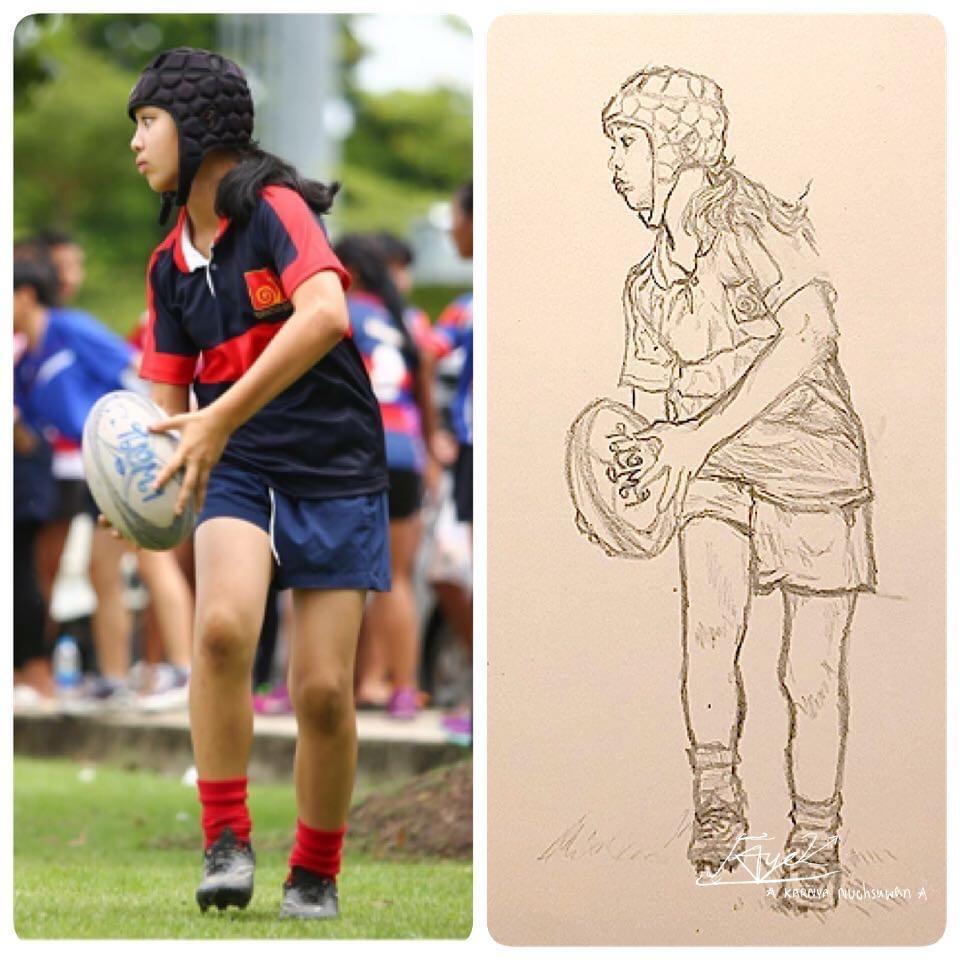 ภาพถ่ายเดิมถ่ายโดยพ่อจ้อย อดิศร อินทรสืบวงศ์ คุณพ่อของเซนเพื่อนปอฝ้ายที่เป็นช่างภาพจิตอาสาในทุกอีเว้นท์สำคัญๆ ของโรงเรียนเพลินพัฒนาและสนิทสนมกันในระดับครอบครัว เซนและปอฝ้ายผ่านฝึกซ้อมและเข้าร่วมแข่งขันรักบี้ด้วยกันทุกแมทช์ยาวนานมากกว่า 3 ปี เป็นสองคนที่อายุน้อยที่สุดในทีมเพราะเข้าร่วมทีมโรงเรียนตั้งแต่ Grade 4 และแข่งขันชิงชนะเลิศประเทศไทยด้วยกันจนโรงเรียนเพลินพัฒนาเป็นแชมป์ประเทศไทย 2 สมัย ทั้งยังได้รับเสื้อสามารถสีแดงปกดำจากทางโรงเรียนฯ เคียงคู่กันในฐานะทำชื่อเสียงให้โรงเรียนระดับประเทศทั้ง 2 ปี โดยมีครูผู้ฝึกซ้อมคือครูแม็ค -ธันยพงศ์ กิจพ่อค้า เป็นครูที่ปอฝ้ายพูดถึงบ่อยที่สุดและรักที่สุด

Faye drew this self-portrait from a photo taken while she was competing on Plearn Pattana School's U13 rugby sevens team in 2017, playing in the position of hooker among the forwards. That year, she and the team won the Thailand national competition for the second time after winning in 2015.
The portrait actually had to be drawn twice, as the first version was lost after submitting her work to her teacher. The lost drawing was a pencil drawing on A4 paper that she intended to use as the cover for her portfolio. Despite the disappointment and tears, she drew the portrait again this time as a digital work on her iPad. The final version, displayed here, was intended to be used as the cover for her portfolio for her scholarship application to UWC at the end of 2021.
The original photo was taken by Uncle Joi – Adisorn Intarasuebwong, father of Faye's friend, Zen. He is the go-to volunteer photographer for important events at the school and close family friend.
Zen and Faye, the youngest member of the team since joining in Grade 4, trained and competed together on the school rugby team for almost four years and won two national rugby sevens competitions (in 2015 and 2017). The team coach, Teacher Mac – Thanyapong, who made it all possible, was the teacher who Faye most respected and admired at the school.